Mr. Jovon
Instructor
---
Jovon has been working at Flour Power for the last two and a half years. He enjoys the opportunity to work with so many kids and helping them learn and watch their creativity and excitement when it comes to cooking or baking.
---
Miss Caroline
Instructor
---
Caroline has been a teacher for seven years and is excited to bring her love of kids to Flour Power! Caroline earned her BA in English at Appalachian State University before earning her M.Ed at Alverno College in Milwaukee. Most recently, Caroline moved back to her hometown of Raleigh after teaching at a project-based learning school in Washington, DC. When she is not working with kiddos, Caroline loves to read, make art, and hike!
---
Miss Joanne
Instructor
---
Joanne retired after a 30 year career in marketing and now enjoys spending her free time instructing the children at Flour Power. She is the mother of two adult children and grandmother of three adorable cats.
---
Miss Heather
Instructor
---
Heather is a Kindergarten teacher at Butner-Stem Elementary and has been teaching at BSES for 6 years. Her favorite part about teaching is watching all the growth that they show from beginning to end. Hobbies include cooking and baking which is why she enjoys instructing at Flour Power. Heather has been with Flour Power for over a year. Other hobbies are reading, Pittsburgh sports and yoga.
---
Miss Deborah
Instructor
---
Miss Deborah has been with Flour Power for a few years. She's a regular you will see at both Falls River and North Hills. If you are a student at Thales Academy in Raleigh, you will recognize Miss Deborah for her after school events she instructs there.
---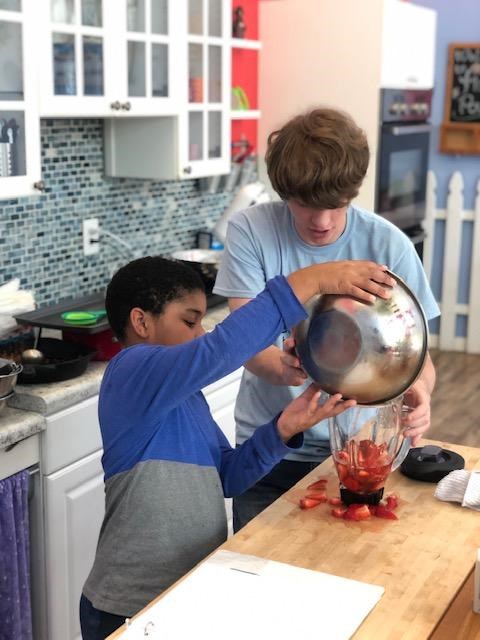 Mr. Brad
Instructor
---
Brad has been with Flour Power since our summer 2019 camps started. You will see him at Falls River and North Hills instructing the children with camps and classes. Brad is a Mass Communications student at Emory & Henry, with an interest in Biology and the sciences as well. He spends his free time playing card games with friends, or writing characters and building puzzles for his Dungeons & Dragons table.
---
Miss Alexa
Instructor
---
Alexa has been working at Flour Power for over a year. She fills in as Manager when Miss Denise is away. She enjoys instructing and watching the children learn new skills. She loves seeing her regular students come in and making friends with all of the new ones! Alexa is attending North Carolina State University and will graduate in December 2019.
---
Miss Marie
Instructor
---
During the week, Miss Marie is a teacher, but on weekends you will find her leading birthday parties at Flour Power.
---
Miss Denise
Studio Manager
---
A long-time North Carolina resident, Miss Denise brings plenty of experience with children to the studio; she has four of her own! Miss Denise loves both the administrative and teaching responsibilities at North Hills, and you'll often find her interacting with our young chefs. As an award-winning cake decorator, Miss Denise brings invaluable dessert decorating experience to the classroom. She even helped write "Bakery Life: Stir it! Bake it! Shake it!," Falls River's and North Hills baking and decorating intensive camp for beginners!
---